Garden of 500.000 tulips
Every spring, for the past nine years, the tulip has reigned supreme in the gardens at Château de Cheverny.
Over 500,000 bulbs are planted, notably to form a vast ribbon of tulips. Enchantment guaranteed!
Imagine this spectacular ribbon: 500,000 tulips covering a length of 250 m and a width of 12 m, in red, pink, yellow, orange, purple and white. A veritable natural work of art which, for the first time, will end in the water feature of the Château gardens.

This splendid display can be discovered in April!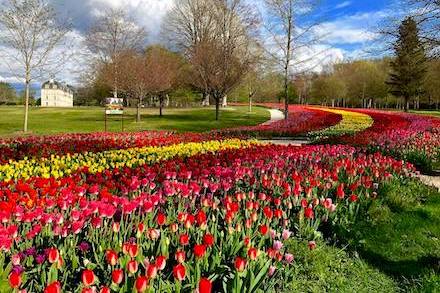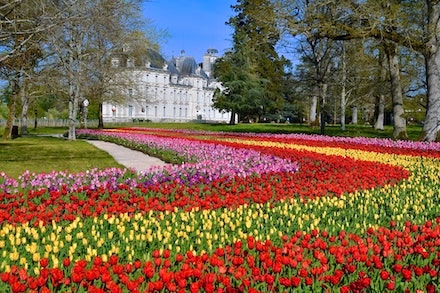 .
.The tulip ribbon in numbers:
2014: creation of the tulip ribbon with 100,000 bulbs planted

2015: a ribbon of 120,000 bulbs

2019: a ribbon of 150,000 bulbs

2020: a ribbon of 200,000 bulbs

2022: a ribbon of 250,000 bulbs

2023: a ribbon of 500,000 bulbs

Tulip variety: Triumph. Every year in the autumn, 50 to 60% of the bed is renewed after enriching the soil.

Seven gardeners work all year round on this natural display.
.
Follow its development on our social media:
.
The ribbon evolution in 2023.
You may also find all the pictures in this Facebook album : evolution in 2023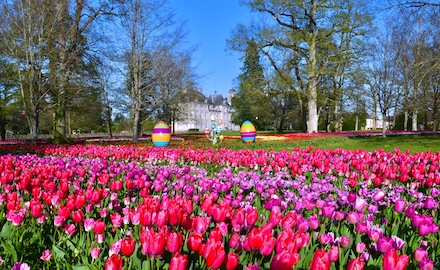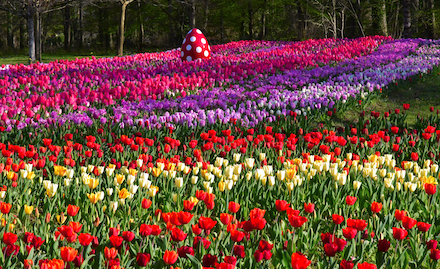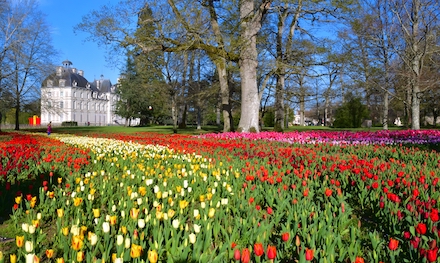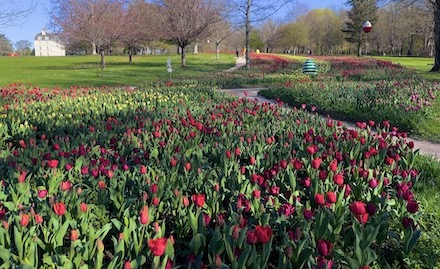 Practical information:
Opening times:
• From 01/01 to 31/03: 10am to 5pm
• From 31/03 to 30/09: 9:15am to 6pm, except from 02/07 to 31/08: 9:15am to 6:30pm. EXCEPTIONAL CLOSURE: all day on 1 July 2023.
• From 01/10 to 31/12: 10am to 5pm
Castle and gardens entry prices:
• Adult: €14
• Reduced rate (Children 7-14, students under 25 y.o.): €10
• Children under 7 y.o.: free
• Disabled person: free upon presentation of the disability card
Free Parking

PHOTO GALLERY