LEGO® EXHIBITION: CHEVERNY DURING THE RENAISSANCE
The château is hosting a LEGO® exhibition: "Cheverny during the Renaissance". The famous little bricks from Denmark is offering young and old alike a chance to step back in time, to visit the Renaissance!

"This is the fourth LEGO® brick exhibition we have organised at the château relating history through the bricks" explained Cheverny's owner Constance de Vibraye. "We are very keen to ensure that a visit to the château is a memorable moment to be shared by both adults and children. This new exhibition offers a fun way to discover both our estate and an exciting period in the Val de Loire's history".
A LEGO® exhibition to be enjoyed as a family during which they can discover replicas of a renaissance chair and table in the château's different rooms, life-sized of course, all made from LEGO® bricks. They can also admire a portrait of Jeanne d'Aragon, by Raphaël, made from... LEGO®. The original versions of all these items and works are also at the château!
Visitors can also discover the model of the older château built around 1510.
"An amazing combination of LEGO® and our historical heritage, this exhibition will be a must-see family event!" concluded the Marquise de Vibraye.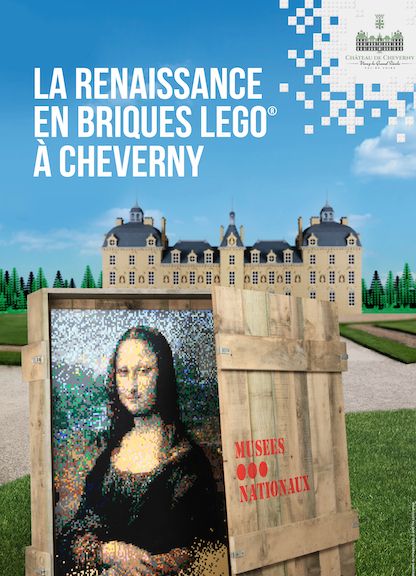 Practical information:
Opening times:
• From 01/01 to 30/03 : 10am to 5pm
• From 31/03 to 30/09 : 9:15am to 6:30pm
• From 01/10 to 31/12: 10am to 5pm
Entry to the Chäteau and gardens (LEGO exhibition included):
• Adult: €12,50
• Concessions (adult with a family of at least 3 children, children aged 7 to 14, student under 25 ): €9
• Child (under 7): free
• Person with disability: free + standard rate for accompanying person.
Free Parking

PHOTO GALLERY